Today is the saddest day for us. We have to leave this beautiful paradise and head back to reality.
Yesterday was the planned day to head home but we just couldn't bring ourselves to leave, so we took one last drive around and guess where we ended up? Yeap, had to go say goodbye to
Lucille
and her hubby Don. While I was there of course I had to have one more look around... it had to be something small, I have no more room left, I found one last piece...
I recall these bells from my childhood... every shop owner had these attached to their door. I remember one mounted to an old wooden screen door and the door always slammed when closing at the local corner store... I don't even know the name of the store and I am not sure I ever did, but I sure do remember Mr. Joe, he always gave us a penny candy and tacked it our parent's bill, or did he?
I think that is what I love about treasure hunting the most, the memories it brings back that you normally wouldn't think about otherwise... maybe we should start calling it Memory Hunting instead...
now if that rust could just tell the story of where this was mounted and how many people passed under it in it's lifetime...
I plan on creating new memories for it right on my side door.
Dennis is going to miss this spot...
He found this stocked pond along Rte. 20 on our travels out one day.
He spent many mornings on that dock fishing...
we enjoyed the fruits of his labour last night for dinner.
His plan next year is to bring a little boat and get over to that Island... he is convinced that all the big ones are hiding behind there.
Hope you all enjoyed the trip along with us... I am off to pack up my memories and head home.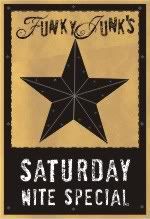 Donna is having an awesome rust party over at her place... you are all invited.
Hugs, Deb